Successful face to face Conference held in Australia
Reconnection was the main theme at this year's DFK Australia New Zealand Annual Partners Conference – DFK's first in-person event since the pandemic began.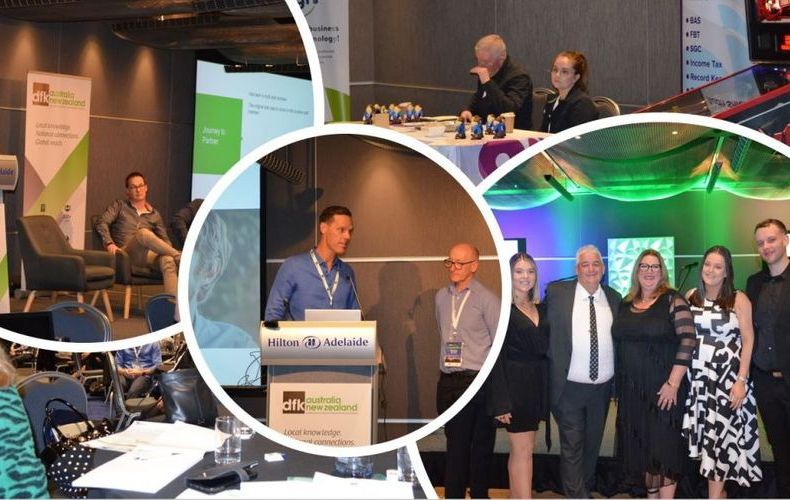 Reconnection was the main theme at this year's DFK Australia New Zealand Annual Partners Conference – DFK's first in-person event since the pandemic began.
A total of 45 delegates and their families joined together for the event at the Hilton Adelaide Hotel which was hosted over three days.
The conference, which was sponsored by Accountancy Insurance and BGL, was also streamed online into five countries to delegates who were unable to attend the event in person.
Delegates took the opportunity to reconnect, sharing their journeys to leadership and discussing emerging issues post pandemic, with a particular focus on HR matters.
DFK ANZ also held its inaugural Managing Partner Session as well as its very first Emerging Leaders Forum, which focused on the path to Partner and supporting delegates to identify their personal development requirements.
Another key theme of the event was tax, and a forum was held featuring practical sessions which covered a range of topics to provide delegates with a range of useful skills and tools.
A highlight of the tax forum was a session from Will Fennell, of Piper Alderman, who spoke about accounting for cryptocurrency transactions.
The conference also included an update from DFK International's Executive Director Martin Sharp and President Harriet Greenberg who joined the event via video link.
The Conference also saw several Board movements including the retirement of Stephen Bushell from the ANZ Board after 12 years following his appointment as DFK International Deputy President and Gavin Johns was appointed ANZ Chair with Cheree Woolcock stepping down to take on the role of ANZ International Director.
Several awards were also presented, with CIB being awarded Firm of the Year, and Dario Gamba, of DFK Nugents, and Tim Kelleher, of DFK Benjamin King Money, were jointly awarded the Chairman's Award in recognition of their work to establish the Tax Seminar for both the DFK ANZ and Asia Pacific conferences as well as presenting on behalf of the regions at DFK International conferences.
The full business programme was complemented with a wide range of social events including a welcome dinner, a walking tour of Adelaide, a tour of Hahndorf village and a visit to a winery and gin distillery.
Every year the ANZ group present a significant charitable donation to the local Ronald McDonald House Charities, this year was no different. The ANZ Group were fortunate to have two special guests attend the dinner and share their unique and moving story. The ANZ Board presented the South Australian Ronald McDonald House Charities with a cheque for $10,000.
Lynne Greenaway, Executive Officer at DFK ANZ, said: "The conference was absolutely fantastic, and it was excellent to see everyone in person once again.
"There was a real buzz around the whole event after it was originally postponed from May 2020, and everyone really enjoyed being together face to face.
"It was really nice to see not only the Partners, but their families as well. We had 10 children in attendance which brought a really nice atmosphere – and it was brilliant to see them all having fun on the dancefloor at the gala dinner.
"The timing of the event was perfect, and if it had been 10 days later, many firms would not have been able to attend due to COVID lockdowns.
"We've already had some excellent feedback from delegates, and it was great that we were also able to stream elements of the event online to those who couldn't make it.
"I'd like to thank our event sponsors as well as all of our guests and speakers for helping to make it such a fabulous event."