Record Numbers for DFK North American Conference 2022
A growing annual conference for accountancy professionals across North America and Canada is gearing up to welcome a record number of visitors.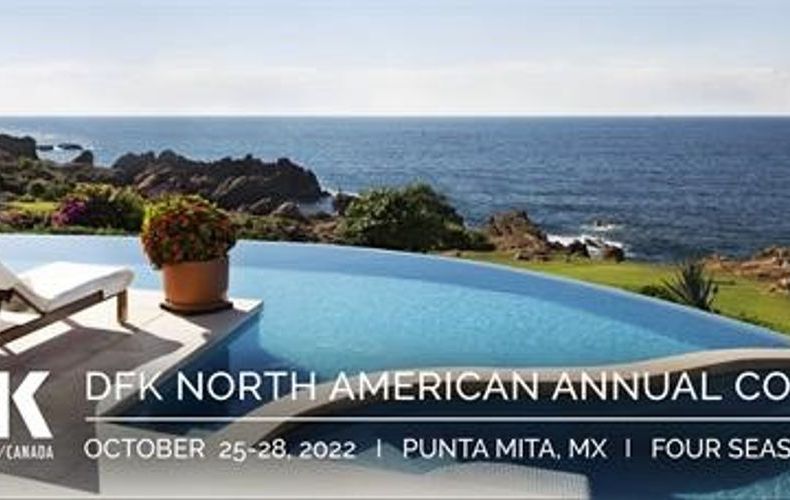 A growing annual conference for accountancy professionals across North America and Canada is gearing up to welcome a record number of visitors.
DFK is hosting its North American Conference between October 24 and October 28 at the Four Seasons Resort in Punta Mita, Mexico – with around 200 professionals from accountancy firms and other guests from across the USA and Canada registered to attend. The North American Conference is one of the many DFK conferences hosted each year by the various DFK national and regional groups around the world.
Key topics of discussion at this year's North American conference will centre around team work, diversity and inclusion, mental health, as well as leadership and culture.
Best-selling author and former school hockey coach John Bacon – who helped transform one of the nation's worst school hockey teams into one of the best - will be delivering a speech on the secrets of leadership.
Dr. Clare Carver-Dias will be speaking on building and leading a team of high performers, while Dr. Jermain David will be speaking on stress, burnout and other mental health issues.
Dee Green and Ben Miller will also be delivering a session on diversity, equality and inclusion.
Mike Platt will be providing an overall update on the current state of the North American and Canadian accounting industry, while Charles Hylan will also be sharing specific content relating to the sector.
Will Eckerson, Executive Director of DFK USA, said: "This year's conference is set to double the number of attendees that we had five years ago, underlining how useful the event is for accountancy professionals.
"The accountancy industry in North America and Canada is undergoing various changes and innovation currently, alongside the ongoing challenge of how firms can retain their top talent, and the conference is a great opportunity for professionals to discuss these topics and exchange best practice to support each other.
"The knowledge on offer from our speakers, as well as the energy levels and camaraderie amongst attendees is what makes this conference truly special, and the more accountancy professionals we have attending, the better.
"We also have some colleagues joining us from the UK, Ireland and Australia, offering professionals a truly global perspective on the accounting industry as we look forward to a prosperous year ahead."
Bill Wright, Executive Director of DFK International, weighed in on why DFK national and regional conferences have been so popular among members.
Bill said: "The North American Conference is a shining example of connecting members within a country or region to share their common experiences, learn together and enhance professional relationships. It's what our members want."
Nigel Jacobs, Chief Executive Officer of Taylor Leibow, outlined why he has been attending DFK's North American Conference for the last 15 years.
He added: "The wonderful locations combined with relevant and excellent topics and speakers has always left me energised and ready to return to my firm with new ideas and best practices.
"The conference also provides the perfect opportunity to renew existing relationships and make new ones with DFK colleagues from around the world.
"The social activities offer the opportunity for more relationship building in a less formal setting with the time to have fun as well."
For more information about DFK's North American Conference click here.