Raelyn Davis, CPA is named as DFK/USA'S Rising Star
DFK International/USA is pleased to announce Raelyn Davis, Audit Principal, at Friedman LLP as our first ever Rising Star Award Recipient.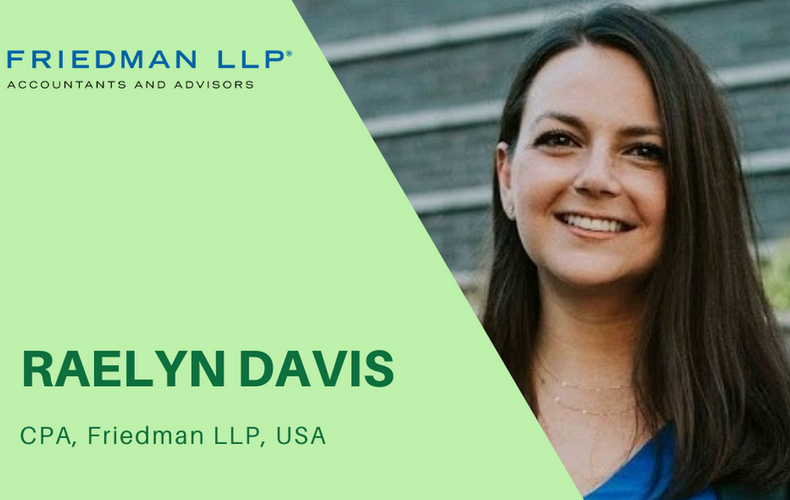 DFK International/USA is pleased to announce Raelyn Davis, Audit Principal, at Friedman LLP as our first ever Rising Star Award Recipient. The DFK/USA Rising Star Award seeks to recognize an emerging leader within the association that exemplifies the following qualities: a record that reflects ongoing and exceptional growth in contribution to the profession, increased levels of leadership, responsibility, and sphere of impact. Additionally, the recipient shows leadership at their firm and is making an impact on the DFK community.
Davis has more than a decade of experience in audit, accounting, and other attest and advisory work. Her primary clients consist of middle market privately held companies in industries such as consumer products (including apparel, footwear, and licensed children's wear), manufacturing, distribution and retail, diamond and jewelry, construction, and professional services. She also has experience auditing nonprofit organizations and employee benefit plans.
"Raelyn is passionate about women's development. She is an extremely capable and competent leader," stated Harriet Greenberg, Co-Managing Partner of Friedman LLP.
Davis approaches engagements aiming to understand her clients' businesses to provide tailored advice on industry-related topics, including inventory, accounts receivable and factoring, cost accounting, adoption of new accounting standards, internal controls and streamlining operations. She authors content for Friedman's Fashion Sense newsletter and has been featured by The CPA Journal.
Maureen Dillmore, Executive Director of DFK/USA shared, "I'm very excited be able to reward and acknowledge the efforts of Raelyn Davis by announcing her as the very first recipient of the DFK/USA Rising Star Award. Raelyn came on the DFK scene for the first time this year and jumped right into with both feet. Her contributions to the DFK International Women in Leadership mentoring program embodies the spirit of the DFK community. She played an integral part of the initiative which we hope will become a part of the DFK fabric for years to come. Raelyn is exemplifying the kind of member that makes DFK so special."
Further Information:
Headquartered in Manhattan, Friedman LLP is an industry-focused practice featuring concentrated areas of expertise and understanding of the economic environment, consistently ranked among the Top Accounting Firms and Best Places to Work. Click here to visit the website.
DFK International/USA is an association of independent, full-service public accounting and consulting firms with offices serving major markets throughout the United States. The association is affiliated with DFK International, with over 300 offices in over 80 countries.Click here to visit the website.
DFK provides independent member firms with a forum to exchange practice management information and technical expertise, opportunities for continuing education and leadership development, and the resources to serve their clients on a national and international level.Click here to visit the website.