Agenda at a glance:
For a detailed description of each breakout session, please scroll down.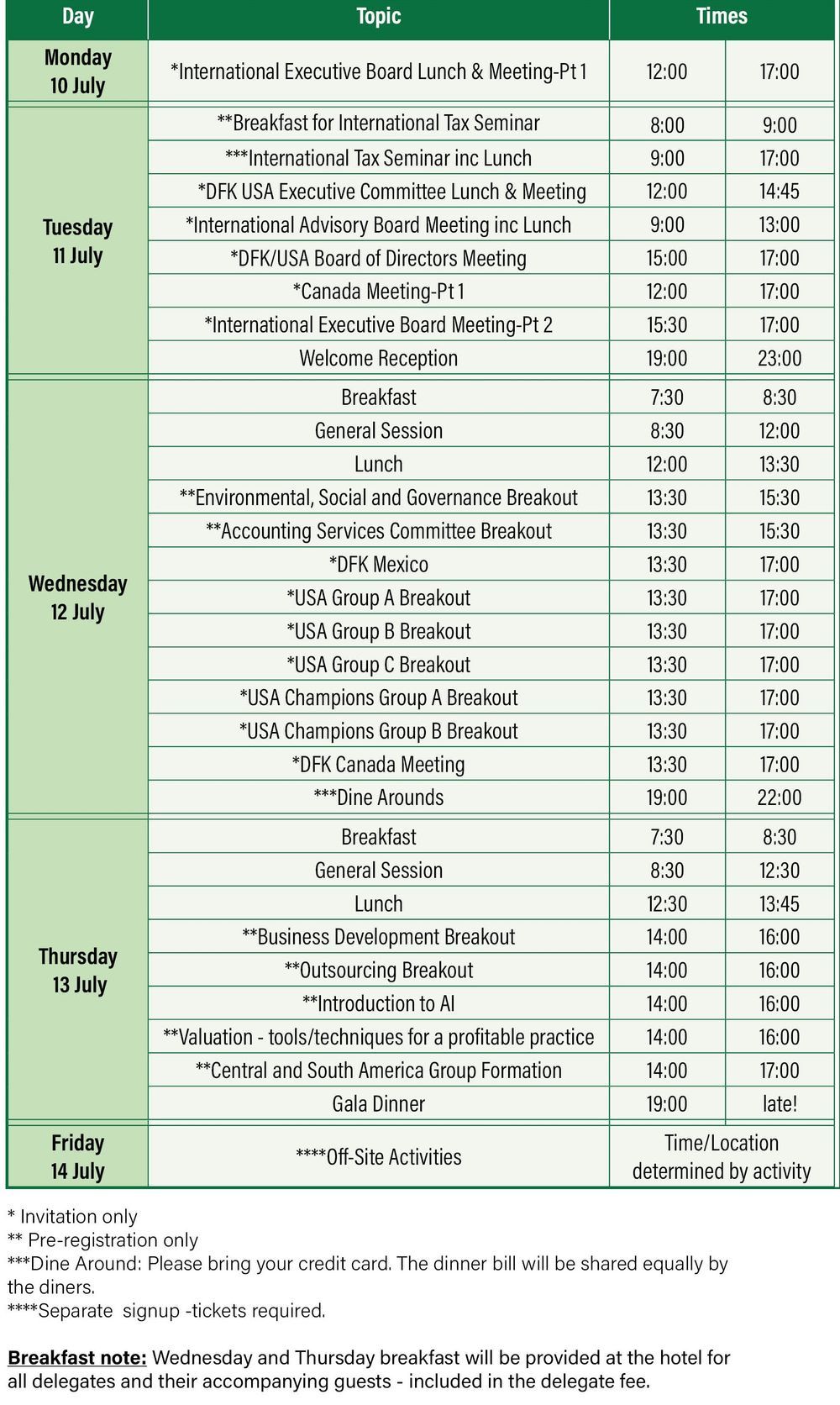 Sessions
Wednesday 12th July 13:30 -15:30
Environmental, Social and Governance Workshop
The accounting industry is well-suited to assist clients in ensuring their organisations are ahead of the ESG protocols sweeping the business community. This breakout session will highlight the current state of affairs in ESG and what accounting firms can do to address opportunities. Members will be invited to share their firm's initiatives or objectives for ESG.
Accounting Services Committee Workshop
Accounting Services has been the fastest-growing segment of our DFK firms. Under the leadership of Cheree Woolcock, managing partner of DFK Benjamin King Money in Melbourne, DFK is forming a new international committee of professionals focused on developing the best practices across firms utilising the best tools available in the industry. Join this breakout to share knowledge and learn how to make your accounting services practice grow efficiently.
Thursday 13th July, 14:00- 16:00
Business Development - Presented by Jeff Jacobs (Wilkins Miller LLC)
This breakout session will focus on skills and tools necessary for successful business development. Participants will learn strategies for identifying and targeting potential clients, building relationships, and closing deals. Attendees will share their successful business development techniques.
Outsourcing - Presented by Ben Miller (Bennett Thrasher LLP)
Large accounting firms have been outsourcing work to firms in India, South Africa, the Philippines and elsewhere for many years. Some DFK firms have started doing so, and many others are considering it. This workshop will explore the current outsourcing environment and potential paths for our DFK firms to engage in this activity.

Introduction to AI and its practical use for accountants
This session, hosted by the DFK IT Committee, will focus on what AI is, what AI isn't, and what we can expect in the SME accounting environment.
Valuation: Why are some valuation practices more profitable than others? Who is doing the valuation, and an insight into valuation techniques
This workshop, hosted by the DFK Valuation Committee, will cover the following:
Valuation 101 - Basic theories – we will explain the why of what a business valuator is thinking (more than just theory).

Keys to running a profitable valuation practice – tips and tricks to win in the business of business valuation.

Understanding discount rates - demystifying the discount rate.
Central and South America Group Formation Meeting
DFK member firms of Group Members (aka "National Groups") accomplish more within their group than members not in a Group. This breakout is designed for the DFK firms in Central and South America to discuss the formation of the Central and South America DFK Association.