By joining DFK our members can expect the highest quality of support in all the services they deliver to their customers.
Clients can be assured that they can expect advice and assistance that complies with all regulatory bodies, as well as the latest international standards and best practice.
We ensure our high standards through:
Offering regular technical and practice development conferences
Having key specialist committees to give advice
Regular peer review of members' processes and procedures
Requiring a primary contact who speaks fluent English, for consistent international communication
Our commitment to our code of practice can be seen through our rigorous selection process. To maintain our quality of membership, our selection process adheres to very strict criteria which enable us to guarantee a very high standard of service delivery.
The journey to becoming a member is as follows:
A firm expresses an interest in joining and is sent an initial questionnaire
The potential member completes the questionnaire, providing details of their size and capabilities
The completed questionnaire is reviewed by the Executive Office. If the firm meets the required criteria for membership, it will be asked to pay a commitment fee before being visited by a DFK quality reviewer
Representatives from DFK visit the prospective member's site to assess their systems and procedures. Their report will include a recommendation to the Board of Directors on whether the firm should be admitted to membership
If the recommendation is positive, the Board of Directors then votes formally to admit the new member
Once membership is approved, the new member firm is expected to attend conferences and other networking events to meet other members
We welcome membership enquiries from professional firms with a real interest in developing international business opportunities for their clients.
DFK International welcomes membership enquiries from professional firms that have a real interest in developing international business opportunities for clients.
Social Responsibility
Social Responsibility is an integral part of DFK's mission

UN Sustainable Development Goals
The
UN Sustainable Development Goals
are the blueprint to achieve a better and more sustainable future for all. They address the global challenges we face, including those related to poverty, inequality, climate change, environmental degradation, peace and justice. The 17 Goals are all interconnected, and in order to leave no one behind, it is important that we achieve them all by 2030.
DFK strives to contribute to the following goals: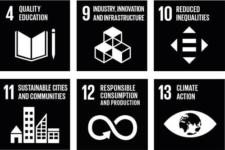 Carbon Offsetting
As DFK is an international organisation we know that air travel is part of our business. We do believe that we can help offset our carbon footprint. To do this we ensure that each time a member of staff takes part in travel for DFK we offset our carbon footprint. We also encourage our members to follow this practice when they travel to our conferences.
Movember
DFK International has been an active supporter of Movember. Each year firms from around the world join together to spread the word about men's health through Movember activities and fund raising.
International Women's Day
The DFK International Women in Leadership Committee have pledged to support a chartiable organisation each year with fundraising activities on International Women's Day. The intent of this is to select a charity within the region we hold our International Conference to raise awareness and support throughout our membership.

St Jude's India Child Care Centres
"My involvement with St. Jude has helped me empathise with the needs of these children and their families. It has helped me grow as an individual and look beyond the profession of accountancy. My firm, M P Chitale & Co is greatly supportive of this involvement of almost 15 years by now. Since taking over as the chair, I spend around 15% of professional time at St. Jude. That is an immense CSR contribution of our firm." - Ashutosh Pednekar, M P Chitale, India

Find out more about St. Judes here
Other charitable projects from our members
Financial Crime Risk Management Policies
DFK International is committed to high ethical standards. Our policies on anti-money laundering, sanctions, and anti-bribery and corruption aim to ensure that risks identified by the association are appropriately mitigated.
Anti-Money Laundering Policy Statement
DFK international and its members are committed to implementing global standards shaped by the most effective anti-money laundering standards available in any location where DFK and its memebrs operates.
DFK has established a Global Anti-Money Laundering Policy for this purpose. The objective of the AML Policy is to ensure that money laundering risks identified by DFK are appropriately mitigated. This is achieved by establishing Board-approved, minimum governing policies, principles, and standards and implementing appropriate controls, to protect DFK, its employees and members from money laundering. The AML Policy provides guidance to all DFK employees, requiring them to conduct business in accordance with applicable AML laws, rules, and regulations.
The AML Policy is based upon various laws, regulations and regulatory guidance from the United Kingdom and, as applicable, local jurisdictions in which DFK does business.
The Programme includes but is not limited to:
A Member Due Diligence Programme, which incorporates partner identification and verification and Know Your Customer ("KYC") principles, and the implementing of programmes designed to appropriately remediate Due Diligence of our existing members
Conducting enhanced due diligence ("EDD") on members assessed as higher risk, such as Politically Exposed Persons ("PEPs") in senior positions, their relatives and close associates
Establishing processes and systems designed to monitor member transactions for the purpose of identifying suspicious activity
The investigation and subsequent reporting of suspicious activity to the appropriate regulatory bodies

Mandated regular independent testing and regular AML training of its employees and contractors

The prohibition of the following products, services and customer types:

Anonymous accounts or numbered accounts or customers seeking to maintain an account in an obviously fictitious name
Receipt of cash payments
Payable-through-accounts, i.e. DFK does not allow members to provide payable-through-accounts and

Any relevant additional local requirements.
DFK International (DFK) is committed to complying with the sanctions laws and regulations of the European Union, the United Kingdom, the United Nations, and the United States, as well as other applicable sanctions laws and regulations in the jurisdictions in which DFK operates, subject to the primacy of local laws and regulations.
DFK's Global Sanctions Policy defines the minimum standards which all DFK members must comply with, including:
Screening customers/clients and transactions globally against the sanctions lists issued by the United Nations, the European Union, the United Kingdom and the United States.
Screening locally against other sanctions lists that apply to DFK member's operations in a particular jurisdiction.
Prohibiting business activity, including prohibitions on commencing or continuing customer relationships or providing products or services or facilitating transactions that DFK believes may violate applicable sanctions laws or DFK's Global Sanctions Policy. This includes prohibitions on business activity with individuals or entities named on a sanctions list or activity, directly or indirectly, involving countries or territories subject to comprehensive sanctions. As of January 2021, these countries and territories include Cuba, Iran, North Korea, Syria and the Crimea region.
Restricting certain business activity involving, directly or indirectly, countries or persons subject to more selective or targeted sanctions programmes. These sanctions apply restrictions on some types of products or services or target certain industry sectors or governments. As of January 2021, the selective country programmes prohibit transactions and services relating to:

the provision of funding to the Government of Belarus or Government of Zimbabwe;
a donation from the Government of Sudan to a U.S. person;
certain activity involving the Government of Venezuela1;
certain debt or equity of, and certain other transactions and services involving, the Russian financial, energy and defence sectors;
participating in the primary market for non-ruble bonds issued by, and lending non-ruble denominated funds to, the Russian Sovereign2

Investigating all customer/client alerts or transactions that are stopped in DFK's banks' screening systems. While DFK seeks to investigate these alerts and transactions in a reasonable timeframe, compliance with applicable sanctions laws or DFK's bank's Global Sanctions Policy may result in delays to the processing of customer transactions while additional due diligence is conducted and information obtained on the nature of the underlying transaction or the parties involved.
Blocking or rejecting transactions where DFK is required to do so under applicable sanctions laws or regulations or DFK's bank's Global Sanctions Policy. Transactions may also be returned by DFK where they fall outside of DFK's risk appetite.
Reporting breaches of sanctions laws to the relevant regulatory authority. This can include any attempt by a member to evade sanctions laws.
DFK may agree to process certain transactions, in its sole discretion, such as those which relate to humanitarian aid or which are otherwise permitted by a licence from an appropriate authority. These transactions will be considered on a case-by-case basis and must be submitted in advance to DFK for consideration and approval.
DFK may, in its sole discretion, also decide not to process transactions, provide products or services or otherwise facilitate transactions even where permitted by applicable sanctions laws and regulations where these activities fall outside of DFK's risk appetite.
1 The term "Government of Venezuela" means The state and Government of Venezuela, any political subdivision, agency, or instrumentality thereof, including the Central Bank of Venezuela and Petroleos de Venezuela, S.A. ("PdVSA"), any person owned or controlled, directly or indirectly, by the foregoing, and any person who has acted or purported to act directly or indirectly for or on behalf of, any of the foregoing, including as a member of the Maduro regime.
2 The term "Russian sovereign" means any ministry, agency, or sovereign fund of the Russian Federation, including the Central Bank of Russia, the National Wealth Fund, and the Ministry of Finance of the Russian Federation.
DFK Internation Anti-Bribery Policy Statement.
DFK international (DFK) and its memebrs are committed to high standards of ethical behaviour and have zero tolerance towards bribery and corruption. DFK requires compliance with all anti-bribery and corruption laws in all markets and jurisdictions in which it operates. These laws include the UK Bribery Act, the US Foreign Corrupt Practices Act and other similar laws and regulations in the countries where we operate.
DFK's Anti-Bribery (AB) policies are overseen by the DFK Internatonal Board. The policy incorporates the results of regular risk assessments and emphasises that books and records must be fair, accurate, and kept in reasonable detail. DFK requires all employees, including the Board of Directors and Associated Persons, to comply with the principles in the policy in the performance of their services for or on behalf of DFK.
DFK's Global AB Policy includes the following statement of overarching key principles:
All activity:

Must be conducted without intent to bribe or corrupt;
Must be reasonable and transparent;
Must not be considered lavish or disproportionate to the professional relationship;
Must be appropriately documented with business rationale; and
Must be authorised at an appropriate level of seniority.
Furthermore, it is unethical, illegal, and contrary to DFK principles and good corporate governance to bribe or corrupt others, including to:
Offer, promise, give or authorise others to give or agree with anyone else to offer, promise, give or authorise others to give, anything of value, directly or indirectly, to any party, or to influence any Public Official; or
Solicit or receive anything of value, directly or indirectly, from any party; or
Offer or provide a facilitation payment (exceptions may be permitted in limited circumstances where an employee's health, safety and/or liberty is at risk);
in order to improperly obtain or retain business or otherwise gain an unfair advantage in business.
Based on the principles above, the AB Programme imposes requirements under four risk pillars:
Employee Risk: All DFK entities and individuals are required by policy to have appropriate controls in place to manage risks and maintain records when offering or accepting gifts, entertainment, sponsorships, travel & accommodation or other advantage or when engaging in charitable giving, political expenditure or recruitment.
In connection with recruitment, it must be merit-based, fair, and in keeping with the stringent hiring standards applied by DFK. Hiring, in paid or unpaid, temporary or permanent roles, must not be used to improperly influence third parties or to improperly obtain or retain business or an advantage in business.
Third Party Risk: All DFK entities and individuals are required by Policy to ensure that appropriate due diligence and controls are applied to any third party they engage, to ensure that they comply with the letter and spirit of applicable anti-bribery legislation and regulation. When a third party performs services for or on behalf of DFK, additional controls are applied to manage the enhanced risks from Associated Persons.
Strategic Risk: All DFK entities and individuals are required by Policy to apply controls in order to protect against bribery and corruption risks, in areas such as strategic proprietary investments, acquisitions, disposals, joint ventures and the development of products & services.
Member Risk: All DFK entities and individuals are required by Policy to ensure that Bribery & Corruption risks identified from member behaviour or the provision of products and services to member are effectively managed through the application of controls.
As part of the prevention, identification and remediation of AB issues, mandatory training is conducted throughout DFK, in addition to targeted training tailored to the roles of the individuals.
DFK carries out regular, risk assessments of its AB programme.
DFK also maintains clear whistleblowing policies and processes, to ensure that individuals can confidentially report concerns, with no fear of retribution, confident that they will be investigated and remediated appropriately.